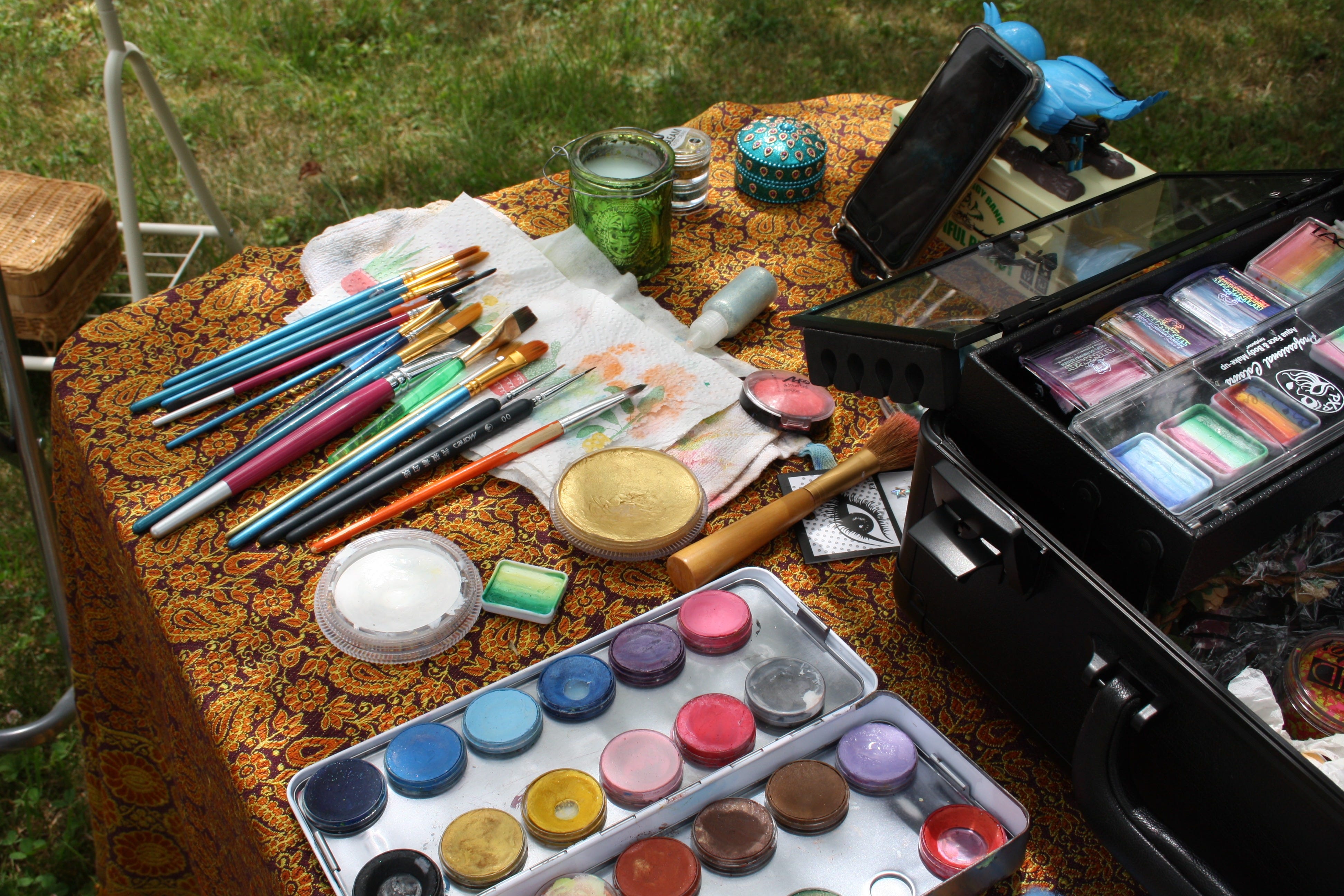 face art & facepainting & everlasting flower crowns in Stuttgart Germany
face art price
The price for my service is calculated from my hourly price and the travel costs from Stuttgart Botnang to you.

Under 20 km destination I ask you for 0.70 cents per km. For travel costs over 20 km, I calculate the estimated travel time from Google.

To face paint 8-10 children it takes about 1.5 hours. In addition, there are my travel costs from stuttgart Botnang to your place.

Included is the whole material like professional face color, glitter, blingblings, bindis and glitter tattoos.

Does the party have a motto or do you have motive wishes?
Then please let me know so that I can prepare something suitable (preparing an individual face art design is for free!)
flower crowns price
my flower crowns cost between 20 to 30 € each. Each crown is unique, handmade and everlasting because it is made from dried flowers. A flower crown just for the birthday child is also possible and believe me: it looks really magical together with the face paint!
More booking details: No cancelation fees and discount
I do not take any cancellation fees if the celebration cannot take place due to corona or other conditions like the weather.

If you and your guests enjoyed my work, I would be happy to receive a positive rating on Google. Then there is a subsequent discount on the facepaint service!

Do you have anymore questions? Contact me!
Or call me: +49 163 635 77 19

Glittering greetings, Wenke ✿ ◠‿◠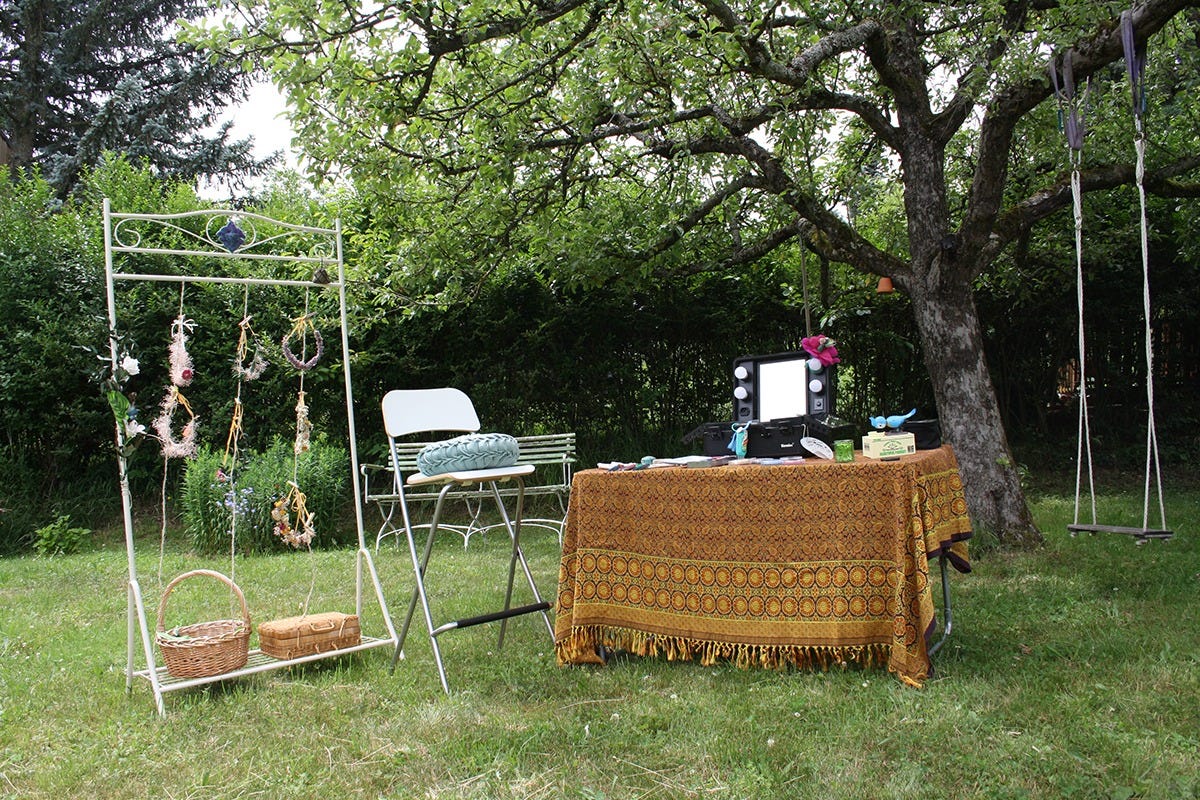 My setup for markets and festivals
The flower crowns hang on a nostalgic stand. What else I will bring with me: my high chair decorated with flowers, a table with a nice tablecloth, and of course everything I need to paint.
Professional make-up paints, brushes, indian "third eye" bindis and beautiful several glitters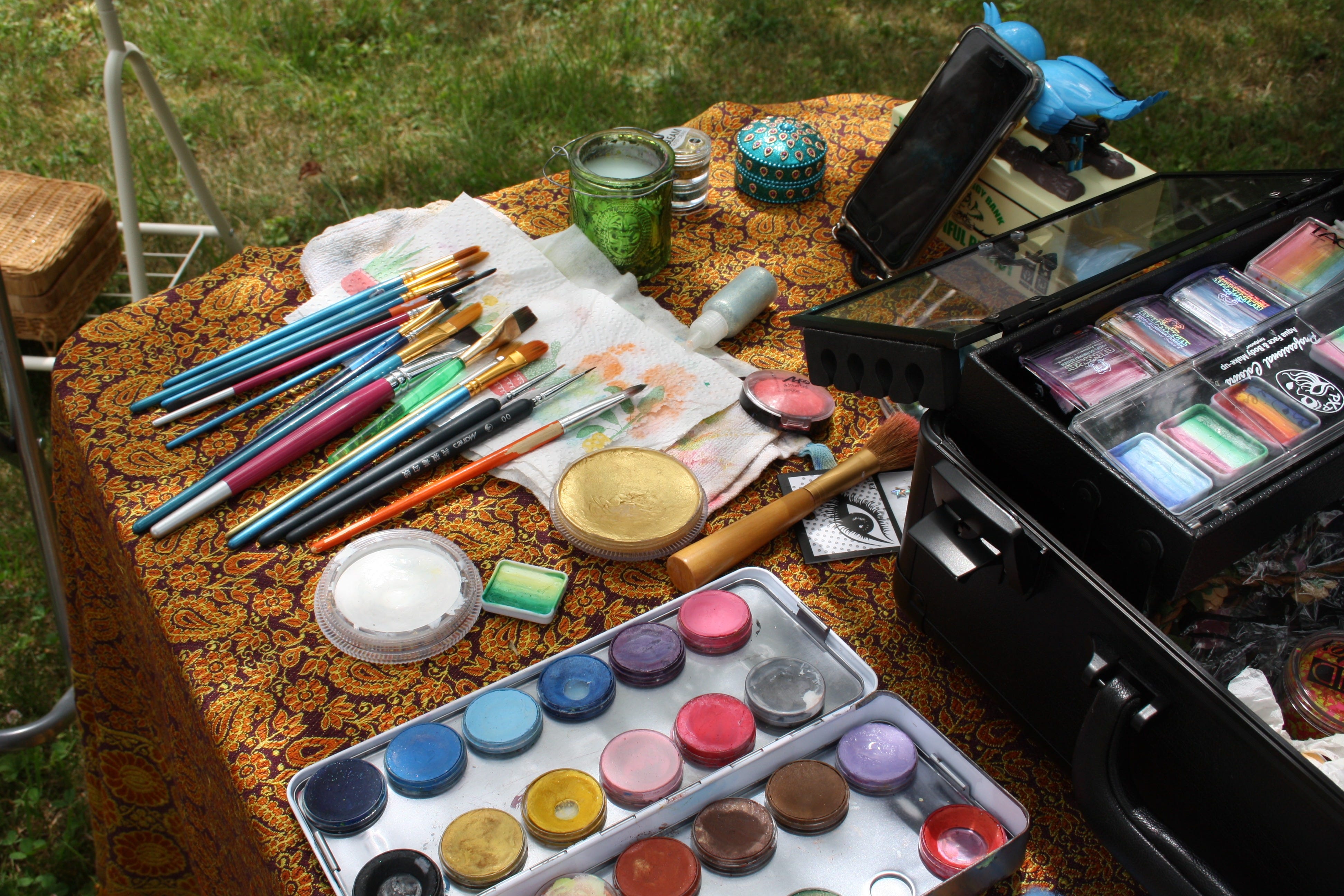 About me and Libella Island
Wenke
founder / discoverer / inventor of Libella Island
make-up artist / face painter
content and Marketing Manager
Mother / wife
Yogi
Why Libella?
The dragonfly stands for metamorphosis and transformation. And there is a lot of LOVE in the german word for dragonfly (LIBElle = LIEBE = LOVE)

My intention is to offer a different style as usual of face painting. I bring designs that hopefully is tasteful and something special.
I can go anywhere...
I am often asked how far away I am traveling: everywhere! It just has to be a nice place! Whether Ibiza, Southern France, North Sea, Bodensee or Allgäu ... if you can offer me and my family accommodation, it is possible that I will come and join your party for free!
Why am I doing this?
Face painting and making everlasting flowercrowns is my hobby. I do make-up for children, adolescents and adults because I enjoy it and because I am happy when what I do brings joy.
If you give me a positive rating on Google, I will refund of the total service price (flower crowns, face art)!!! Libella Island on Google
By the way: There exist no monsters and wounds on Libella Island.