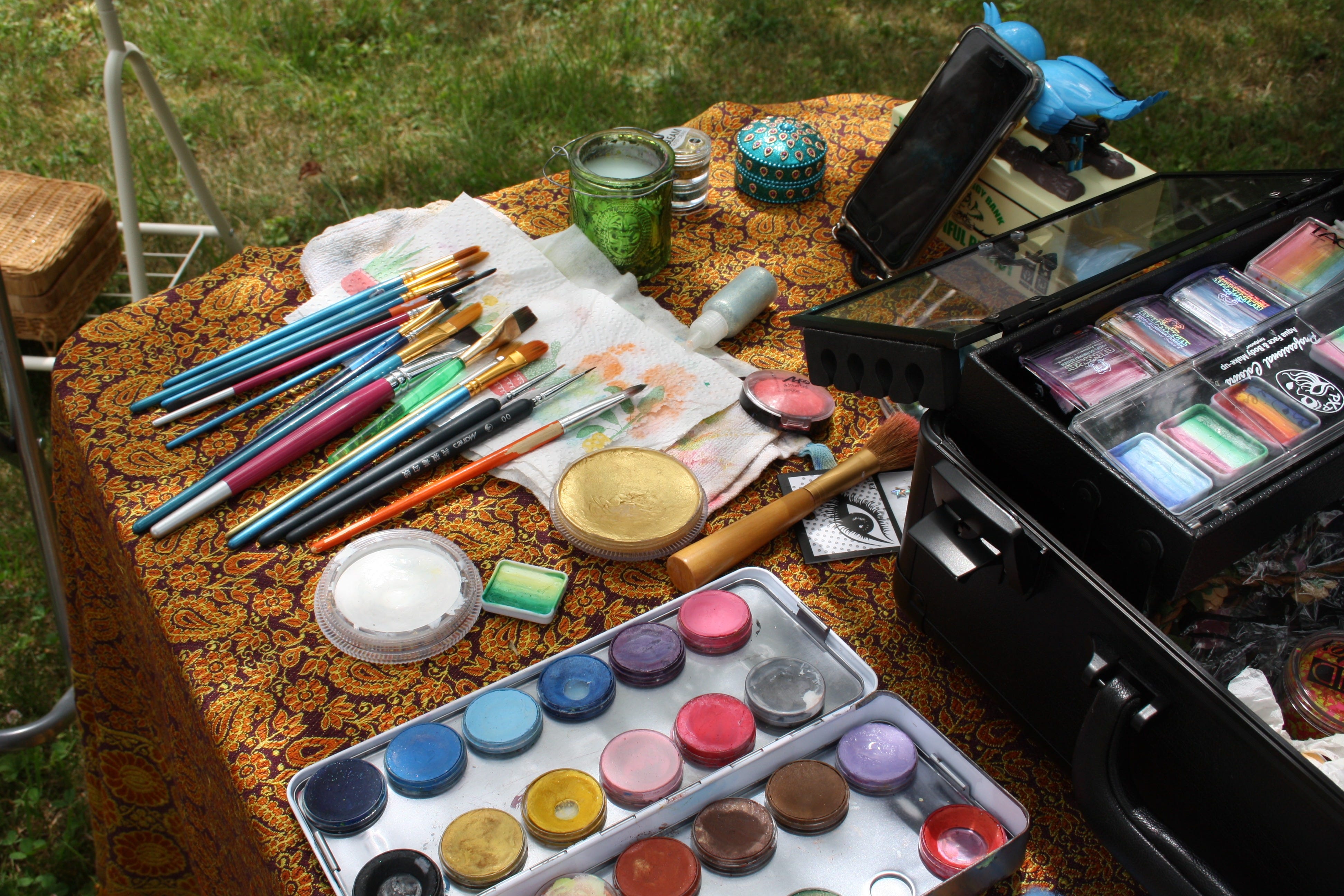 face art & facepainting & everlasting flower crowns in Stuttgart Germany
🇬🇧 You are looking for an english speaking facepainter in Stuttgart? Libella Island facepainting

I apply make-up to children, young people and adults at private and public events of all kinds. In addition, I can bring handmade everlasting flower crowns made from dried flowers on request. Please order the flower crowns at your booking.

I want to please your guests and decorate and enrich the appearance of your party.

Book me for your private party – such as baptisms, weddings, children's birthdays or a bachelorette party and order your flower crowns at least one week before the event. Or invite me to your public event such as festivals, city festivals, cultural and creative markets. Then I come with my decorative "showman stand".
face art price
The price for my service is calculated from my hourly price and the travel costs from Stuttgart Botnang to you.

For travel costs I calculate the estimated travel time from Google.

To face paint 8-10 children it takes about 1.5 -2 hours. In addition, there are my travel costs from Stuttgart Botnang to your place.

Included is the whole material like face color, glitter, blingblings and bindis.

Does the party have a motto or do you have motive wishes?
Then please let me know so that I can prepare something suitable (preparing an individual face art design is fro free!)
flower crowns price
my flower crowns cost between 30 to 40 € each. Each crown is unique, handmade and everlasting because it is made from dried flowers. A flower crown just for the birthday child is also possible and believe me: it looks really magical together with the face paint!
More booking details: No cancelation fees and discount
I do not take any cancellation fees if the celebration cannot take place due to corona or other conditions like the weather.

If you and your guests enjoyed my work, I would be happy to receive a positive rating on Google.

Glittering greetings, Wenke ✿ ◠‿◠
"Let me tell you, if you are on the hunt for an awesomely telented face painting artist, search no longer! Wenke is a true gem. I have scoured the internet high and low for a face painting artist for our daughters birthday party in the Stuttgart area, and finally, I found Libella Island.
Wenke was super easy to communicate with. Some other face painting artist never even responded to my inquiries.
She was open-minded to my request to adjust her face painting art to the boho/hippie theme of our daughter´s birthday. She arrived on time, has a very friendly personality, and fit right in. (...)

(part 1 from 2) Mara from Gärtringen
"Her artwork on the kids´ faces was amazing – truly amazing. It is not as cheesy as some of the face paintings you see at fairs or festivals but super creative and tasteful. The parents were very impressed with her artwork as well, and some even got their own faces painted.
Somehow, even the most active kids sat down and got their faces painted, which speaks for her personylity and demeanor.
All in all, I am so happy we werde able to book Wenke four our birthday party. We sill definitely recommend her and will be booking her for future events as well, and so should you! "
(part 2 from 2) Mara from Gärtringen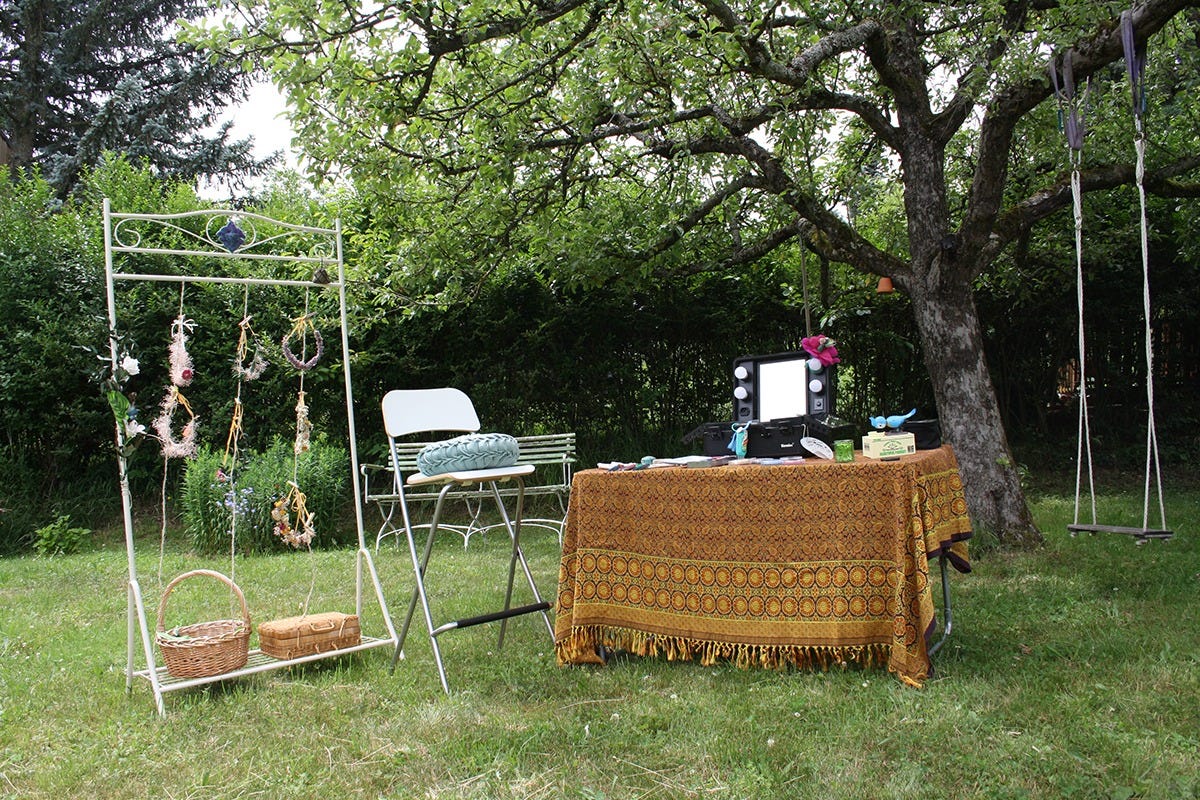 My setup for markets and festivals
The flower crowns hang on a nostalgic stand. What else I will bring with me: my high chair throne decorated with flowers, a table with a nice tablecloth, and of course everything I need to paint.
Professional make-up paints, brushes, indian "third eye" bindis and beautiful several glitters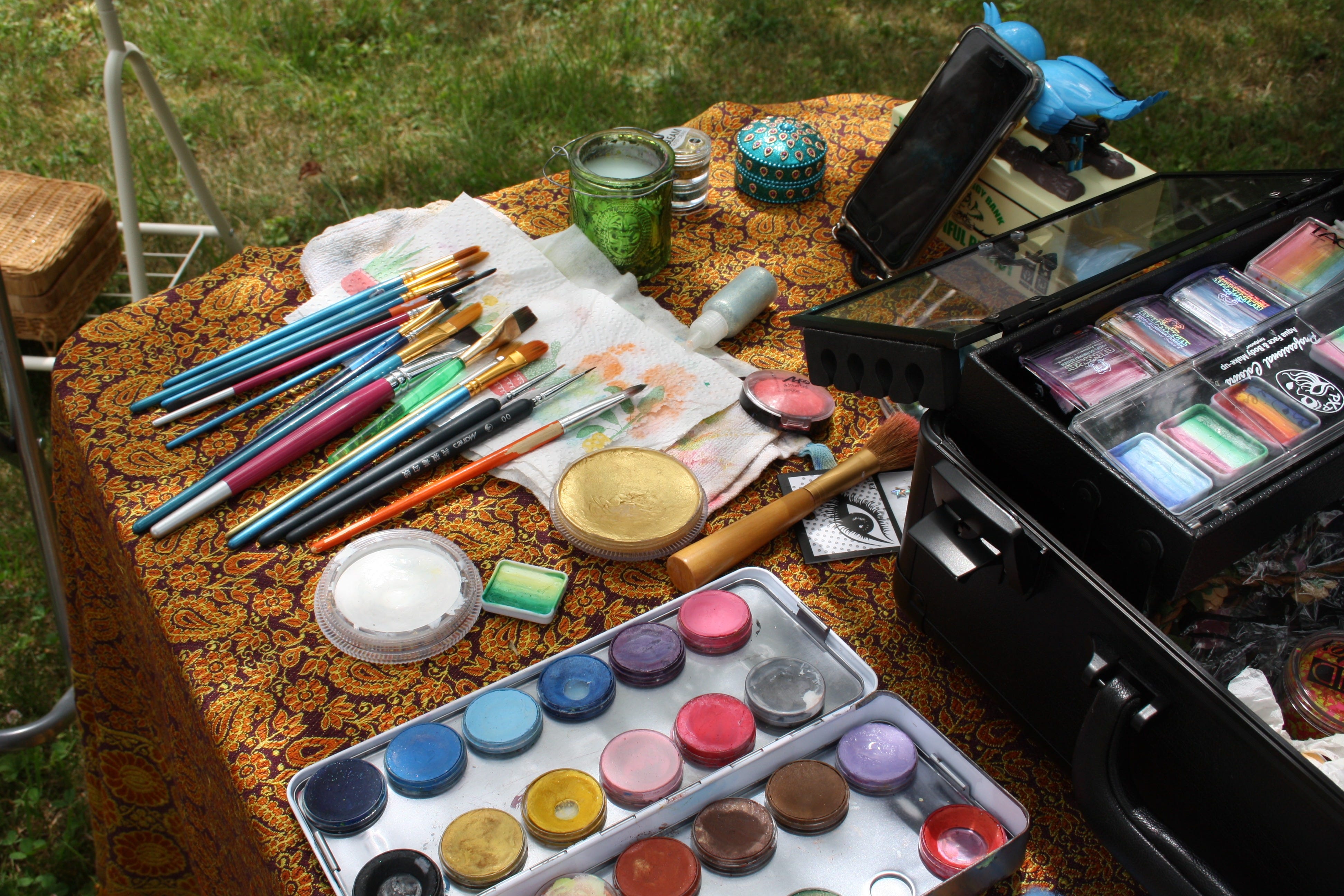 About me and Libella Island
Wenke
founder / discoverer / inventor of Libella Island
make-up artist / face painter
Content and Marketing Manager
Mother / wife
Yogi
Why Libella?
The dragonfly stands for metamorphosis and transformation. And there is a lot of LOVE in the german word for dragonfly (LIBElle = LIEBE = LOVE)

My intention is to offer a different style as usual of face painting. I bring designs that hopefully is tasteful and something special.
I can go anywhere...
I am often asked how far away I am traveling: everywhere! It just has to be a nice place! Whether Ibiza, Southern France, North Sea, Bodensee or Allgäu ... if you can offer me and my family accommodation, it is possible that I will come and join your party aus your guest!
Why am I doing this?
Face painting and making everlasting flowercrowns is my hobby. I do make-up for children, adolescents and adults because I enjoy it and because I am happy when what I do brings joy.
If you give me a positive rating on Google, I will refund of the total service price (flower crowns, face art)!!! Libella Island on Google
By the way: There exist no monsters and wounds on Libella Island.